Research Focus
Plant Virology
Plant viruses cause devastating diseases on plants and threaten our food security. However, besides being pathogen, plant viruses also can be applied as tools for valuable protein expression or gene functional assay in plants. The interests of my lab are mainly focused on studying plant virology and plant-virus interaction for developing antiviral strategies and application of viral vector for genome wide gene functional analysis. Our efforts include collection of economically important plant viruses from field, develop methods for viral disease diagnosis, study virus-plant interactions for antiviral purpose, and establish viral vector(s) for research tools. A multidisciplinary approach including genetics, molecular biology, biochemistry and functional genomics have been established and applied in our laboratory.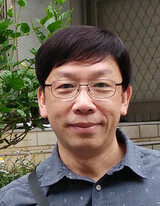 Hsin-Hung Yeh
Associate Research Fellow and Vice Director
(02)27872116
hyeh@sinica.edu.tw
B201-2, White Building
Lab.
B201, White Building
Tel: (02)27872115
2009-2013 Associate Professor, Dept. of Plant Pathology and Microbiology, National Taiwan University
2002 -2009 Assistant Professor, Dept. of Plant Pathology and Microbiology, National Taiwan University
2001-2002 Assistant Professor, Division of Biotechnology, Dept. of Chemical Engineering, Southern Taiwan University of Technology
2001 PhD Dept. of Plant Pathology, University of California, Davis